Jim Salestrom Remembers John Denver
A Very Special Series of 4 Concerts by Jim Salestrom (solo)
Personal photos and personal stories from a longtime fan and friend of John Denver
Limelight Hotel Conference Center
Oct 11th 7:00 and 9:00
Oct 12th 5:00 and 9:30
Tickets $20.00 20 minutes before each performance at the door
"I never was a member of John's band but because of my friendship with John, I shared some very special moments with him. Including the 1983 Celebrity Ski Week at Harrah's Lake Tahoe, concerts at Red Rocks and The Greek Theater, The Dayton Arena, The 4th of July in Nashville, Caribou Ranch near Nederland CO, Aspen performances (singing and playing with John, Jim Horn and James Burton) and recording on Different Directions in Omaha- with longtime friend and record producer Kris O'Connor (and Jimmy Haskell arrangements)"
Behind the scenes stories and some of John's classic songs from the first few albums.
A cash bar will be available.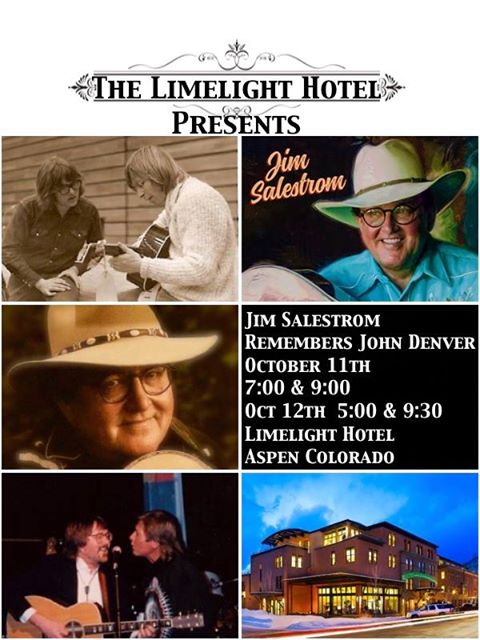 Datenschutzerklärung
Datenschutz
Die Betreiber dieser Seiten nehmen den Schutz Ihrer persönlichen Daten sehr ernst. Wir behandeln Ihre personenbezogenen Daten vertraulich und entsprechend der gesetzlichen Datenschutzvorschriften sowie dieser Datenschutzerklärung.
Die Nutzung unserer Website ist in der Regel ohne Angabe personenbezogener Daten möglich. Soweit auf unseren Seiten personenbezogene Daten (beispielsweise Name, Anschrift oder E-Mail-Adressen) erhoben werden, erfolgt dies, soweit möglich, stets auf freiwilliger Basis. Diese Daten werden ohne Ihre ausdrückliche Zustimmung nicht an Dritte weitergegeben.
Wir weisen darauf hin, dass die Datenübertragung im Internet (z.B. bei der Kommunikation per E-Mail) Sicherheitslücken aufweisen kann. Ein lückenloser Schutz der Daten vor dem Zugriff durch Dritte ist nicht möglich.
Cookies
Die Internetseiten verwenden teilweise so genannte Cookies. Cookies richten auf Ihrem Rechner keinen Schaden an und enthalten keine Viren. Cookies dienen dazu, unser Angebot nutzerfreundlicher, effektiver und sicherer zu machen. Cookies sind kleine Textdateien, die auf Ihrem Rechner abgelegt werden und die Ihr Browser speichert.
Die meisten der von uns verwendeten Cookies sind so genannte "Session-Cookies". Sie werden nach Ende Ihres Besuchs automatisch gelöscht. Andere Cookies bleiben auf Ihrem Endgerät gespeichert, bis Sie diese löschen. Diese Cookies ermöglichen es uns, Ihren Browser beim nächsten Besuch wiederzuerkennen.
Sie können Ihren Browser so einstellen, dass Sie über das Setzen von Cookies informiert werden und Cookies nur im Einzelfall erlauben, die Annahme von Cookies für bestimmte Fälle oder generell ausschließen sowie das automatische Löschen der Cookies beim Schließen des Browser aktivieren. Bei der Deaktivierung von Cookies kann die Funktionalität dieser Website eingeschränkt sein.
Server-Log- Files
Der Provider der Seiten erhebt und speichert automatisch Informationen in so genannten Server-Log Files, die Ihr Browser automatisch an uns übermittelt. Dies sind:
Browsertyp und Browserversion

verwendetes Betriebssystem

Referrer URL

Hostname des zugreifenden Rechners

Uhrzeit der Serveranfrage
Diese Daten sind nicht bestimmten Personen zuordenbar. Eine Zusammenführung dieser Daten mit anderen Datenquellen wird nicht vorgenommen. Wir behalten uns vor, diese Daten nachträglich zu prüfen, wenn uns konkrete Anhaltspunkte für eine rechtswidrige Nutzung bekannt werden.
Kontaktformular
Wenn Sie uns per Kontaktformular Anfragen zukommen lassen, werden Ihre Angaben aus dem Anfrageformular inklusive der von Ihnen dort angegebenen Kontaktdaten zwecks Bearbeitung der Anfrage und für den Fall von Anschlussfragen bei uns gespeichert. Diese Daten geben wir nicht ohne Ihre Einwilligung weiter.
Newsletterdaten
Wenn Sie den auf der Website angebotenen Newsletter beziehen möchten, benötigen wir von Ihnen eine E-Mail-Adresse sowie Informationen, welche uns die Überprüfung gestatten, dass Sie der Inhaber der angegebenen E-Mail-Adresse sind und mit dem Empfang des Newsletters einverstanden sind. Weitere Daten werden nicht erhoben. Diese Daten verwenden wir ausschließlich für den Versand der angeforderten Informationen und geben sie nicht an Dritte weiter.
An- und eventuelle Abmeldungen erfolgen über ein geschlossenes Newsletter-System, so dass niemand unbefugt Ihre Adressen einsehen oder gar weitergeben kann.
Im Laufe der An- oder Abmeldung werden Sie eventuell einige englische Notizen der Seite freelists.org sehen. Diese werden systemseitig generiert und können ignoriert werden. Sie erhalten jeweils auch eine Bestätigungsmail auf Deutsch.
Die erteilte Einwilligung zur Speicherung der Daten, der E-Mail-Adresse sowie deren Nutzung zum Versand des Newsletters können Sie jederzeit widerrufen, etwa über den "Austragen"-Link im Newsletter.
Onlinepräsenzen in sozialen Medien
Wir unterhalten Onlinepräsenzen bei facebook und Twitter, um mit den dort aktiven Interessenten und Nutzern kommunizieren und sie dort über Neuigkeiten informieren zu können. Beim Aufruf der jeweiligen Netzwerke und Plattformen gelten die Geschäftsbedingungen und die Datenverarbeitungsrichtlinien deren jeweiligen Betreiber.
Widerspruch Werbe-Mails
Der Nutzung von im Rahmen der Impressumspflicht veröffentlichten Kontaktdaten zur Übersendung von nicht ausdrücklich angeforderter Werbung und Informationsmaterialien wird hiermit widersprochen. Die Betreiber der Seiten behalten sich ausdrücklich rechtliche Schritte im Falle der unverlangten Zusendung von Werbeinformationen, etwa durch Spam-E-Mails, vor.
Quelle: eRecht24 (mit einigen Änderungen)